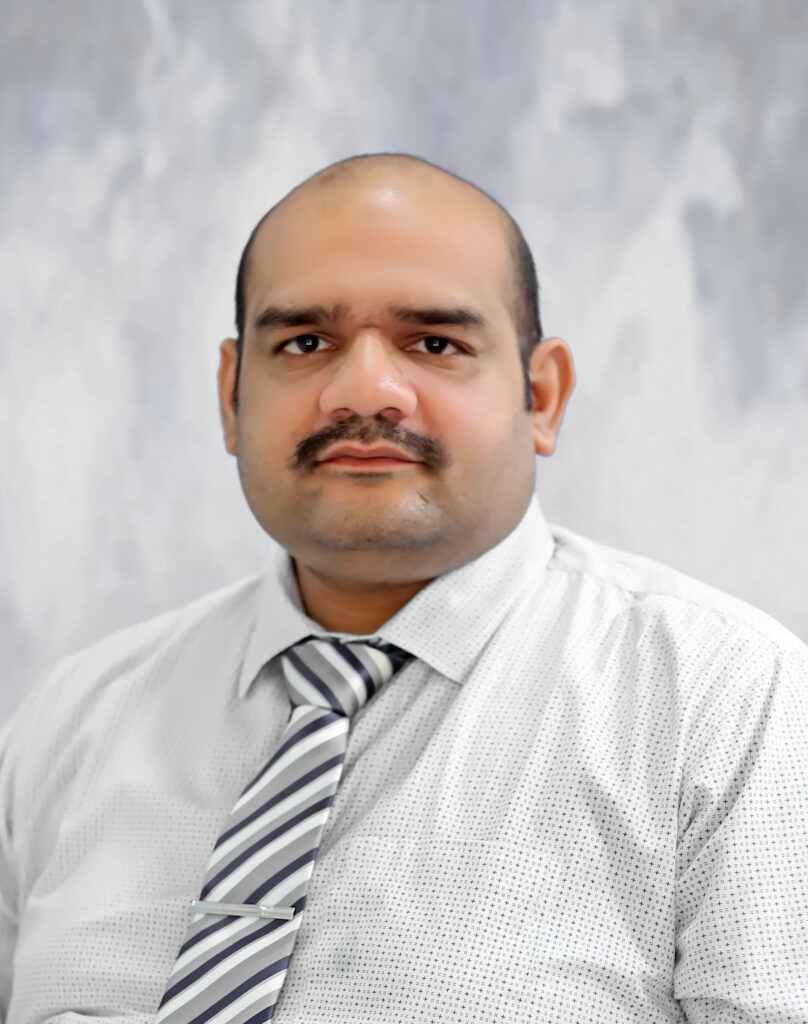 Dr. Arslan Saleem
Specialty: Biostatistics
Department Affiliation: Shalamar School of Allied Health Sciences
Professional Summary
Mr. Arslan Saleem Chughtai completed his Masters from College
of statistical and Actuarial Sciences, University of the Punjab Pakistan
in 2009 and to advances the Education in 2019 by completing his M. Phil degree from
University of Sargodha, Sargodha. As
a trainee he was selected and completed internships in National internship
Program (NIP) in Department of
Health, Secretariat and Directorate
General Health Punjab (2011) followed by Punjab Youth Internship Program (2012).
In
his early carrier(2011-2012) he become part of Asian Development Bank
(ADB) project and for short period of time served as Sorting Officer (BPS-16) in Examination of Department, University
of health Sciences (UHS), Pakistan
From
2013 to 2021 he was teaching in reputed organizations like Rashid Latif Medical College, Lahore and University of Lahore, Lahore School of
Pharmaceutical Sciences, Lahore.
Currently he is serving as Senior Lecture
Biostatistics in Shalamar School of Allied Health Sciences.


Academic Profile
M.Phil. Statistics
2015-2019
University of Sargodha
M.Sc. Biostatistics
2007-2010
University of the Punjab
B.Sc. (Zoo. Bot. Chem.)
2005-2007
Govt. College Township, Lahore
Research Associate
Dec 2010 – Apr 2011
Asian Development Bank
Statistical Officer
Jun 2013 – Oct 2017
DME, Rashid Latif Medical College
Senior Lecturer
Oct 2017 – Feb 2019
UIPT, University of Lahore
Statistical Officer/ Senior Lecturer
Mar 2019 – Jul 2021
DME, Rashid Latif Medical College
Senior Lecturer
Jul 2021 – to date
Shalamar School of Allied Health Sciences, Lahore
Conferences & Workshops Attended
7th International Conference on world statistics day, Oct 2010
3rd International Conference statistical science, Nov 2010
Medical writing, April 2014
Research Methodology, April 2015
Pitfalls in MCQs Development, March 2017
Teaching Believes, March 2017
Development of MCQs, May 2017
MCQs Design, May 2017
Mendeley Presentation, Dec 2017
Meta-Analysis Introduction and Application, April 2018
Qualitative Research methodology & Data Analysis using NVivo12, Jan 2019
Systematic Review And Literature Search With Live Demonstration, Jan 2021
Qualitative Research And Analysis Through N-Vivo Software, Jan 2021
Medical Writing, Jan 2021
The Qualitative Research, Jan 2021
Qualitative Data Analysis Using SPSS, Dec 2021
How to Get Publication in Impact Factor Journals and Boost your Publications through PubMed and Google Scholar, Jan 2022
How to use Innovative Techniques in Teaching; Qualitative Analysis with QDA Lite, Jan 2022
Workshops Conducted
Standard Settings in Examination, April 2017
Scientific Writing using different software, 2020
Reference citation in research writing using reference manager, Nov, 2021
Basic Research Skills of Citation Management using EndNote and Data Analysis using SPSS, Dec 2022
Research & Publications

1. 1. Prognostically Significant Fusion Oncogenes in Pakistani
Patients with Adult Acute Lymphoblastic Leukemia and their Association with
Disease Biology and Outcome, Asian Pacific J Cancer Prev,
13, 3349-3355
2. Characterization of Common Fusion Oncogenes As Prognostic
Molecular Identities in Adult Acute Lymphoblastic Leukemia Identifies the Need
for Genetic Testing At Presentation, Molecular Prognostication and Differential
Treatment. Asian Pacific Journal of Cancer
Prevention, Vol 13, 2012;5469-5475
3. Five Most Common Prognostically
Important Fusion Oncogenes are detected in the Majority of Pakistani Pediatric
Acute Lymphoblastic Leukemia Patients and are Strongly Associated with Disease
Biology and Treatment Outcome. Asian Pacific journal of cancer prevention: APJCP
01/2012; 13(11):5469-5475.
4. In hospital
mortality and morbidity in patients with poor left ventricular function with
reference to On-pump Coronary Artery Bypass Grafting- Experience at a Tertiary
Care Cardiac Center. JAIMC Vol 10. No. 1 JAN. –MAR 2012, Pg 1-5
5. Efficacy and tolerability of Levetiracetam and Topiramate in
patients with epilepsy, Annals of
KEMU Vol. 18, No. 2 APR-JUN 2012 pg143-146
6. Frequency of
post-operative wound infection in open heart surgery. J Cardiovasc Dis 2013; Vol 11. Issue No. 3 pg 70-73
7. Frequency of
various risk factors among patients with myocardial infection. JRLMC, Vol 2. Issue No. 1 JAN-JUN 2014 pg 30-32
8.
Delayed repair of major bile duct injuries – a tertiary care hospital
experience. Biomedica Vol. 30,
Issue 3, Jul. – Sep., 2014\Bio-6.
9.
Assessment of Knowledge and Practices of Plain Water and Filtered Water
Consumers regarding Diarrheal Diseases. Pak J Med Health Sci Oct – Dec 2018;12(4):1703-5
10.
Association of Low Back Pain with Piriformis Muscle Tightness in
University Students. Pak J Physical
Therapy Jun 2018; 1(2):24-8.
11.
Facilities Available for Cerebral Palsy Children in Different Health
Care Setups of Lahore. Pak J Physical
Therapy Mar 2018; 1(1):29-34.
12. The Hormonal Levels of Estrogen in Second and Third Trimesters of
Gestational Diabetes Mellitus patients with or without Family History. Pak J Med Health Sci Jan – Mar 2018;
12(1):581-5
13.
Quantitative comparison of handgrip strength between cardiac patients
and age matched healthy controls using a handheld dynamometer. Khyber Med Uni Med J Oct – Dec 2018;
10(4):196-9.
14.
Fear of fall among geriatric population. Rawal Med J Mar 2019; 44(1):64-6.
15.
The hormonal levels of progesterone in second and third trimesters of
gestational diabetes mellitus patients with or without family history. Pak J Med Health Sci Dec 2019;
13(4):957-61.
16. Frequency of Plantar Fasciitis among Traffic Wardens of Lahore. Biomedica Oct – Dec 2019; 35(4):200-2.
17. Correlation of Diastasis of Rectus Abdominis Muscle in Patients with
Low Back Pain in Lahore. Pakistan
Journal of Physical Therapy (PJPT). 2020:1-6.
18. Association of Low Back Pain with Piriformis Muscle Tightness in
University Students. Pakistan
Journal of Physical Therapy (PJPT). 2020 Sep 18:24-8.
19. Prevalence of Myofascial Trigger Points in Neck Pain with its
Associated Risk Factors in Undergraduate Students of Physical Therapy
Department of University of Lahore. Pakistan
Journal of Physical Therapy (PJPT). 2020:03-8.
20. Clinical Study of Antibiotics Resistance of Bacterial Pathogens
Associated with Diabetic Foot Ulcers. Asian Journal of Allied Health Sciences, 2020:7(2).
21.
Comparison of Medical and Fine Arts Students in Terms of Their Level of
Stress and Depression during Academic Years. Pakistan Journal of Physical Therapy (PJPT), 2021; pp.23-26.
22.Comparison of Hand Grip Strength in Elite Rock Climbers and Novice Rock
Climbers Using Dynamometer. Pakistan
Journal of Physical Therapy (PJPT).
2021 Aug 12:19-22.
23. Effects of Stair Climbing Training on Cardiopulmonary Endurance in Gym
Users. Pakistan Journal of Medical
& Health Sciences, 2022; 16(03). Pg 128-30. doi: 10.53350/pjmhs22163128
24. Association of Preeclampsia with Low Platelet Count among Pregnant
Females Presenting during Third Trimester. Pakistan Journal of Medical & Health Sciences, 16(03), pp.126-126.
doi: 10.53350/pjmhs22163126
25.
Comparison of Magnesium Sulphate Loading Dose with & without
Maintenance Regimen for Management of Patients Presenting with Eclampsia,
Randomized Control Trial. Pakistan Journal of Medical & Health
Sciences, 2022; 16 (03). Pg 138-40
26. Anxiety of Caregivers in Tele-rehabilitation Sessions during COVID 19. Pakistan Journal of Medical & Health
Sciences, 2022; 16(07), pp.438-438. doi: 10.53350/pjmhs22167438
27. Knowledge, Awareness and Practice of Oral Motor Exercises among Speech
and Language Therapists/Pathologists in Various Disorders. Pakistan Journal of Medical & Health
Sciences, 2022; 16(07), pp.479-479. doi: 10.53350/pjmhs22167479
28. Parental Stress of Pakistani Families with Children Who has
Developmental Disabilities. Pakistan Journal of Medical & Health Sciences, 2022; 16(08), pp.514-514. doi: 10.53350/pjmhs22168514
29. Perspective of Parental Satisfaction with Academia of Children with
Down syndrome and Intellectual Disability. Pakistan Journal of Medical & Health Sciences, 2022; 16(08),
pp.518-518. doi; 10.53350/pjmhs22168518z
30. Correlation of Vitamin D with Monocytes and Lymphocytes in Care Takers
of Tuberculosis Patients. Pakistan
Journal of Medical & Health Sciences, 2022; 16(09), pp.467-469. doi:
10.53350/pjmhs22169467
31. Efficacy of Schirmer's Test I and Tear Break Up-Time (TBUT) test among
Patients of Type II Diabetes with Dry Eye. Pakistan Journal of Medical & Health Sciences, 2022;
16(09), pp.595-595. doi: 10.53350/pjmhs22169595
32. Language Development in 2-to-4-year-old Children with Cerebral Palsy. Pakistan Journal of Medical & Health
Sciences, 2022; 16(10), pp. 645-648. doi: 10.53350/pjmhs221610645
33. Emotional Intelligence as
a Predictor of Academic Performance.
Pakistan Journal of Medical & Health Sciences, 2022; 16(10), pp. 636-637.
doi: 10.53350/pjmhs221610636
34. Impact of Jaw Functional Status on Neck Flexor Endurance among Females.
J Shalamar Med Dent Coll, 2023;
4(1), pp274-79
Detection
rate of renal scarring in pediatric patients using dimer-captosuccinic acid
scan. Rawal Medical Journal. 2023 1;48(3):pp. 643-.46
Membership

· Secretary,
Academic Council, Shalamar School of Allied health Sciences
· Member,
Institutional Review Board, Shalamar School of Allied health Sciences
· Member,
Institutional Financial Committee, Shalamar School of Allied health Sciences
· Member, Institutional Research Committee, Shalamar
School of Allied health Sciences
· Biostatistician, Journal of Avicenna Medical College