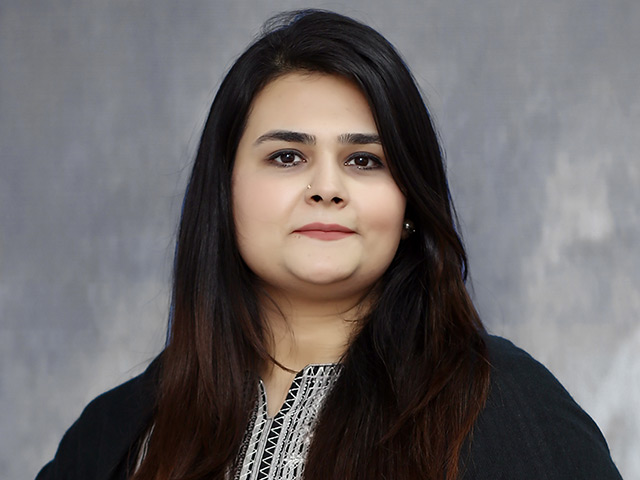 Dr. Javeria Aslam
Specialty: Orthopedic Physiotherapy
Department Affiliation:  Shalamar School of Allied Health Sciences
Date of Joining: 04 / 03 / 2019
Professional Summary
Dr. Javeria Aslam PT completed his Bachelors in Physiotherapy from University of Health sciences in 2012.She did her post-graduation from Riphah International University in 2017.She has done her specialization in Orthopedic Manual Physical therapy. She started her career as clinical/Lecturer physiotherapist in Rehman Medical Institute Peshawar. She worked as Critical Care physical therapist in ICU/CCU of RMI Peshawar. She served Ahmad Medical Institute Peshawar as DPT In-charge/Assistant Professor. She got induction in Lady Reading Hospital Peshawar (tertiary care government hospital) in 2017. Currently she is teaching Manual therapy & gynecology along with supervising clinical wards for DPT students, & serving as supervisor for final year DPT research students since last 2 years at SSAHS.
Academic Profile
MS Orthopedic Manual therapy Physical Therapy
2016 – 2017
Riphah International University, Islamabad – Pakistan
Post Professional DPT
2012 – 2014
Riphah International University, Islamabad – Pakistan
BSc(Hons) Physiotherapy
2008 – 2012
University of Health Sciences.
FMH college of Medicine & Dentistry, Lahore – Pakistan
Professional Profile
Assistant Professor/Programme Coordinator
Mar 2019 till date
SSAHS
Clinical Physiotherapist
Sep 2017 – Mar 2019
Lady Reading Hospital, Peshawar – Pakistan
Assistant Professor/In charge-Physiotherapist
Dec 2016 – Sep 2017
Ahmad Medical Institute, Peshawar – Pakistan
Lecturer/Clinical Physiotherapist
Oct 2012 – Dec 2016
Rehman Medical Institute, Peshawar – Pakistan
Awards and Certifications
Completed 30 contact hours for hand on international Short Course on "ASSESSMENT & IMPLEMENTATION OF MANUAL TECHNIQUES FOR PELVIC FLOOR DYSFUNCTION" Organized in University of Health Sciences in Collaboration with LMDC.
Workshop on "Research Methodology Training " Organized by Medical Education Department of Shalamar Medical and Dental College in collaboration with Agha Khan hospital Karachi with 0.3 CME Hours..
Research & Publications
 "Variation of Q Angle in Multiparous Pregnant Females; An Observational Cross Sectional Study" Published in Pakistan Biomedical Journal in 2022.
"To Compare the Effect of Brisk Walk and Stair Climbing on Cardiopulmonary Endurance in University Students". Published in Pakistan Biomedical Journal in 2022
"Effects of Upper Cervical (C1-C2) Combine with Upper Thoracic (T1-T4) Mobilization in Cervicogenic Headache" Submitted in Pakistan Journal of Medical Science , X Category HEC recognized Journal. ISSN 1682-024X,1681-715X
Professional Affiliations and Memberships
Pakistan Physiotherapy Association PPTA